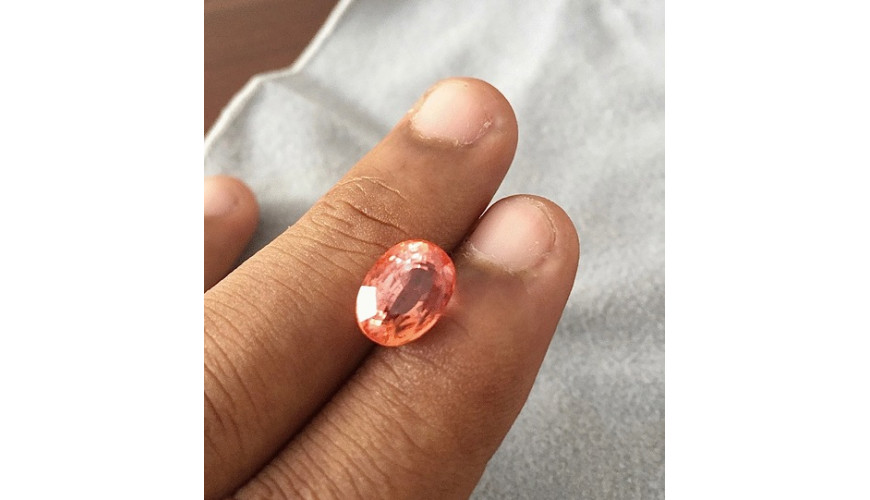 Padparadscha Sapphires (පද්මරාග/ පද්මරාඩ්ෂ)
After research and exploration, we have discovered one of a kind Padparadsha Sapphires of premium quality. This stone is the rarest and prized form of sapphire. The Padparadsha Sapphire possesses an "aquatic lotus blossom" color which ranges from a dainty salmon pink hue to an orange hue. Some describe this beautiful gemstone's color as a marriage between a lotus flower and the sunset, indicating that it is one of the world's most unique and regal gemstones with a mystifying color.
NGJA - padparadscha sapphires explanation in Sinhalese....
Following video footage of our finest Padparadscha Sapphire will help you grasp this stupefying color. All buyers, investors, jewelers, wholesalers, manufacturers and end consumers essentially desire this color.
Please increase video quality to HD (high definition) when watching
The word Padparadscha has been derived from the Sinhalese word Padma - Raga [Padma (පද්ම) = lotus;  Raga (රාග) = color]. This word has many denotations and if you add a single Sinhalese letter "ya" to the word raga (රාග) it will be pronounced as "Ragaya (රාගය)", which means Lust.
At present, many Padparadscha Sapphires are heat-treated in order to improve their color. Due to the rarity of these stones, the demand for natural heat-treated stones (NO dying, beryllium, radiation etc.) is relatively similar to unheated stones of the same quality. Price wise, for top quality, unheated stones with the perfect color will fetch a premium, that is sometimes 50% or more compared with heated stones of similar quality.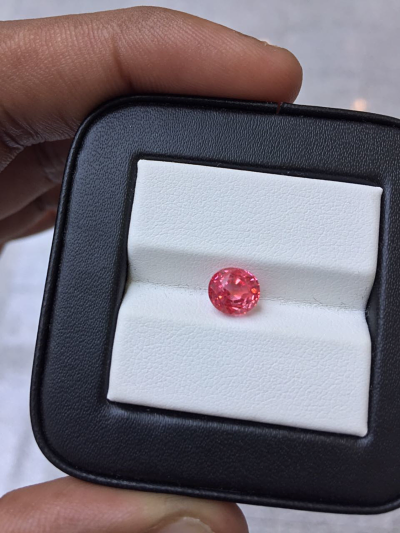 In June 2005, the 20.84 carat Padparadscha sapphire on the left, was priced for (USD): $374,000 ($18,000 per carat) at the Christie's auction. The image from the Christie's auction demonstrates almost perfectly the color of the Padparadscha sapphire. The yellow gold setting and the diamonds enhance the perfect color, blending well and accentuating its beauty. A similar unheated top quality stone (a pink based color) weighing 11 Ct with no visible inclusion from a 10 x loupe (99% Internally Flawless) was recently exhibited in Colombo, Sri Lanka (March 2017) by one of the leading exporters. The total asking price was $440,000 ($40,000 per carat). On a yearly basis, the per carat price increases by approximately 10% which is indeed a very good number for investors.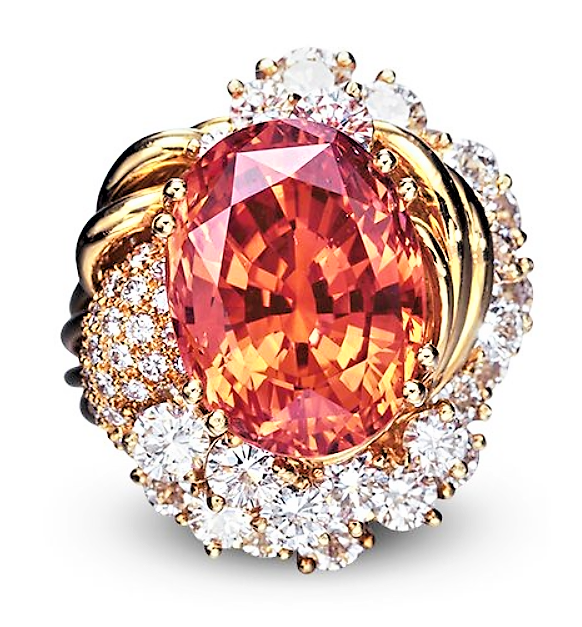 Without a doubt, these investments have excellent potential for a healthy return. However, this alternative investment asset class must be held for at least 5 – 10 years to fetch top dollar. This is the recommended holding time frame for these kinds of top quality gemstones.
In New York, U.S.A (world's biggest market for diamonds & gemstones) the wholesale asking per carat price for top quality Padparadscha starts from $10,000 + for stones that weigh from 1.00 - 4.99 carats.
Top quality one of kind gemstones & colored diamonds have always been considered ultra luxurious items. In the past, they were only collected, stolen (mostly during the colonial era) or gifted to royal families. They were never used as investment purposes before because they were unobtainable to the general public. Nevertheless, over the past 45 years, it's popularity has increased greatly and people are now aware of its existence. There is no public price list (Rapaport), like we see with colorless commercial diamonds. However, the price increment seen in the market for certain gemstones & colored diamonds has been astonishing. The only way to gather the pricing data will be from the most famous public auction houses such as Christie's and Sotheby's.
After a thorough analysis of the contemporary market for stones, we can safely arrive at the conclusion that subsequent to top quality colored diamonds, (pink, blue, red, etc.) a top quality Padparadscha sapphire is the only gemstone that appreciates in value. For investors, owning this beautiful gemstone will be one of the best paths to guard their wealth, rather than investing in commodities that will eventually depreciate in value due to various external factors.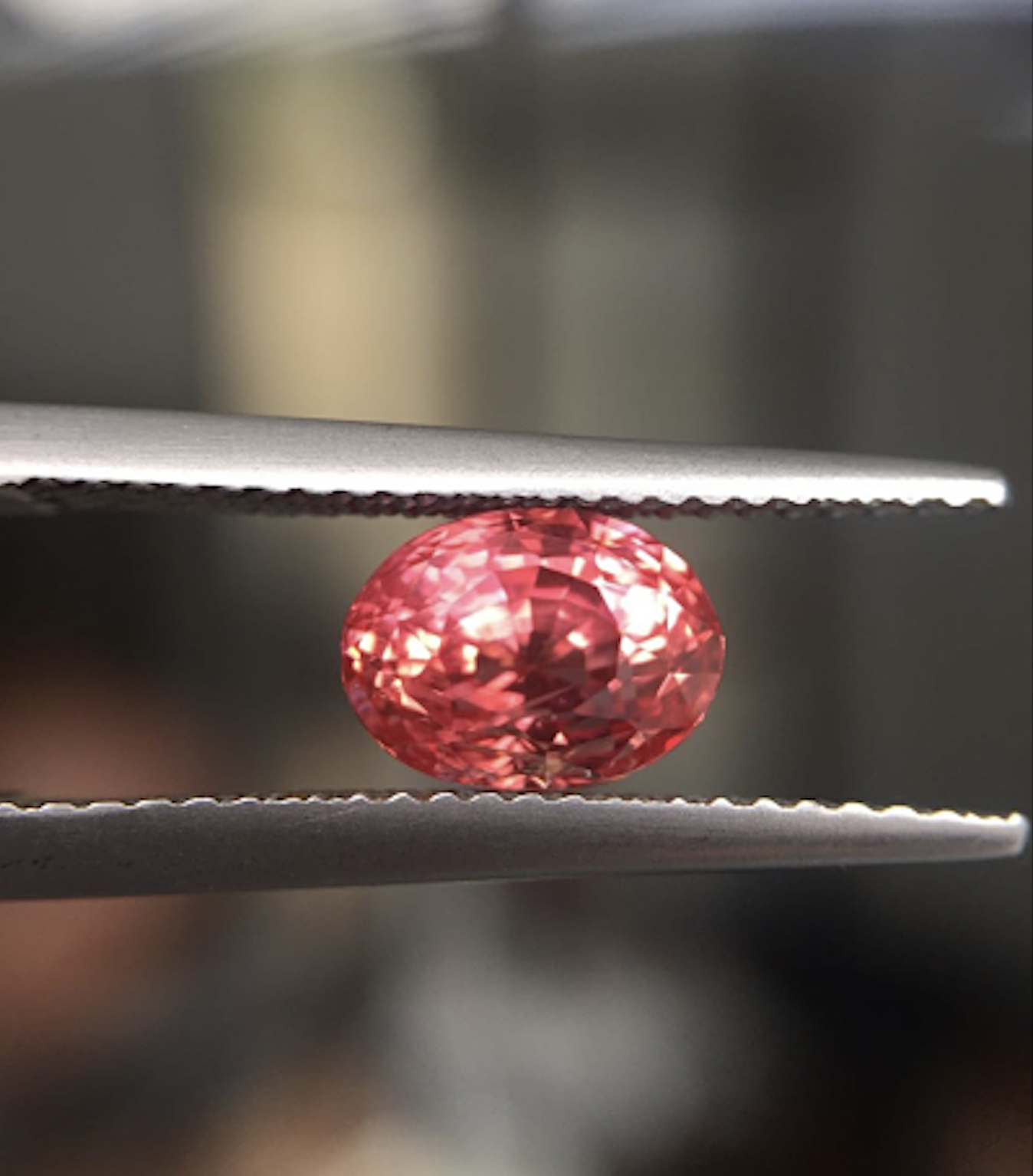 In conclusion, the Padparadscha sapphire is an absolutely magnificent gemstone that Mother Nature has created. It is unique and rare with a color variation that will leave a person astounded and awestruck, which is what my first experience with this sapphire was like. Each stone is simply mesmerizing and two stones are never alike. These gemstones are undeniably beautiful and timeless and should be grasped and owned whenever found. A note to remember is to make certain that what you are paying for is truly a genuine Padparadscha sapphire. It is important to have stones certified by a minimum of two well-known gem laboratories such as GRS, GIA & Gubelin. Labs tend to make grading errors when it comes to these kinds of mysterious gemstones, as it is not an easy task to grade a gemstone like a commercial colorless diamond. Therefore, it is safer to get 2 certificates and purchase the stone with a money back guarantee policy.
I have included a few more pictures of our unique Padparadscha collection. In order to understand more about this beautiful gemstone and its color, it is vital to see actual high-quality pictures & videos of this gemstones or observe the stones physically. Only then you will be able to fully comprehend and admire the true magnetism of the Padparadscha Sapphire.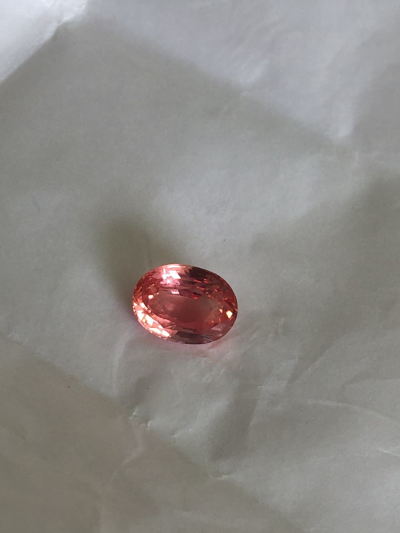 60% Pink 40% Orange Base Padparadscha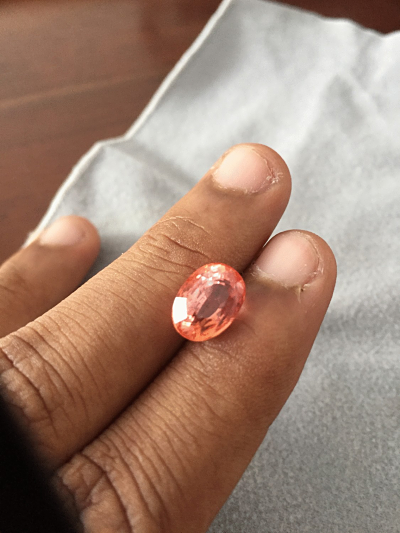 20% Pink 80% Orange Base Padparadscha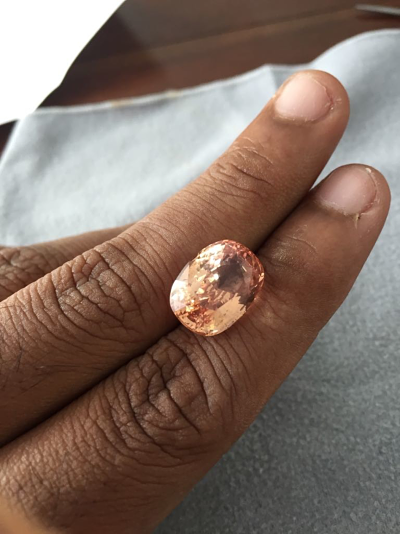 10% Pink 80% Orange & 10% Yellow Base Padparadscha
80% Pink (Peach Pink) 20% Orange Base Padparadscha
20% Pink 80% Orange Base Padparadscha
80% Pink 20% Orange Base Padparadscha