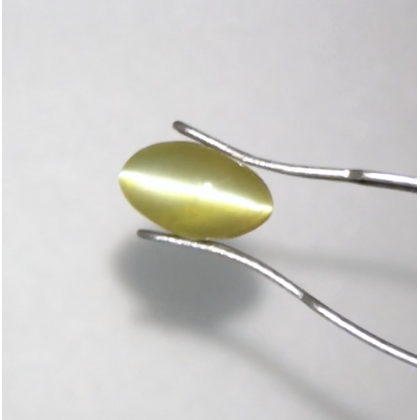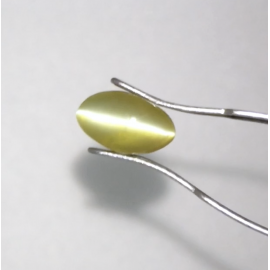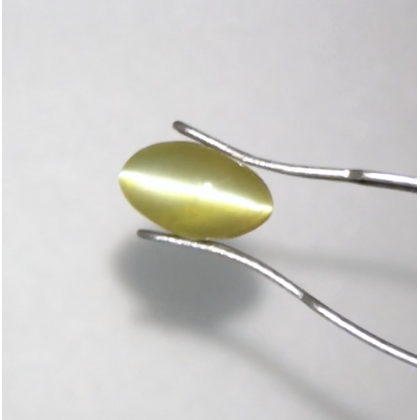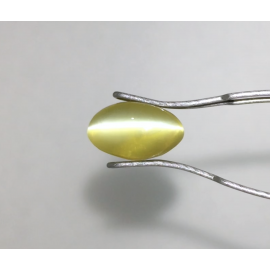 3.52 Ct Chrysoberyl Cat's Eye
Please view YouTube video footage on High Definition mode to understand the quality & color of the gemstone.
Data sheet
Gemstone SKU

CE1

Gemstone Carat

3.52 Ct

Gemstone Shape

Oval/Cabochon

Gemstone Treatment

NONE

Gemstone Transparency

Semi-Transparent

Gemstone Origin

Sri Lankan (Ceylon)

Gemstone Certificate

National Gem & Jewellery Authority (NGJA)

Gemstone Color

Honey Green
Chrysoberyl is the gemstone that produces the most distinct "cat's-eye," or chatoyance. If a person uses the name "cats-eye" without the name of another gemstone (for example, "cat's-eye tourmaline"), then he is most likely referring to chatoyant chrysoberyl. Cat's-eye chrysoberyl has also been called "cymophane."  
The phenomenon of cat's-eye occurs in cabochon-cut stones that contain a high density of parallel fibrous inclusions. The "cats-eye" is a line of light that reflects from the dome of the cabochon at right angles to the parallel inclusions. The line of light is very similar to how a spool of silk thread will produce a line of reflection across the top of the spool as it is moved back and forth under a source of light.